Jou Trekking is a fully licensed, professional tour company based in  Senaru North Lombok, Indonesia. Dedicated to providing incredible Mount Rinjani Volcano trekking adventures, Jou is the owner of this company has been working along the Rinjani trek since a small age as a porter & guide. jou started his own company since 2016 The company has recently grown with positive customer reviews on TripAdvisor, Recommended by some travel bloggers as one of the best trekking company in senaru for Mount Rinjani hike, We have an expert team of trekking guides and porters who will help you complete your Rinjani trek successfully. The only thing you need to do is choose a plan and we will do the work of organizing that perfectly matches your holiday plan
Address Jln.Pariwisata,senaru,bayan kabupaten lombok utara.83354
#1 ON TRIP ADVISOR
Jou trekking has been honored to hold the #1 spot on TripAdvisor in 2017. We have worked hard making sure that every client's expectations are surpassed and hope to continue this in the years to come. 
WE ARE SUSTAINABLE
Jou Trekking is dedicated to No Footprint Left Behind…by our groups and others. We collect every garbage we see along the journey and make sure we leave the trail looking better than when we arrived. We planting a tree with  our team to keep mount rinjani green to insure that future Indonesian and visitors from around the world will be able to appreciate the essence of these historic and unique landscapes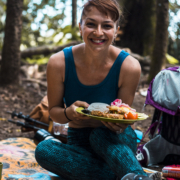 I honestly couldn't believe what I was hearing. I felt deep and genuine appreciation and satisfaction that I had managed to find the most eco-conscious trekking company in Senaru to do my Mount Rinjani trek with. I was impressed by the effort the guys were putting into digging out all the water and gas bottles, plastic bags and packaging from the bushes and stuffing everything into huge reusable bags that they were later gonna carry down the mountain on top of everything else they had carried up. If that's not a complete commitment to keeping the mountain clean, I don't know what is.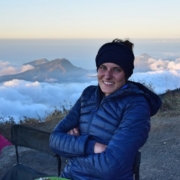 We were so happy to chose to trek Mt Rinjani with Jou Trekking. When we started planning it we really didn't know what to expect or which company to go with – there are so many to choose from! All we knew was that we wanted to trust whoever we climbed with, and to make sure that we would have enough food along the way.
We booked our 3D2N Mount Rinjani Trekking Tour with Jou Trekking and cannot recommend them enough! They provide transfers to and from any location in Lombok, a nights accommodation before the trek in an A/C room with hot water and send you fully equipped with jackets, poles and PLENTY of food and water!
We decided to go for the 3D/2N option and booked our tour through Jou Trekking. We can't recommend them enough. The guide and porters are all super friendly and helpful. They also provide you with delicious food and a different type of dish everyday. You'll be provided with a very comfortable mattress and tent which is wind and weather proof so you'll be nice and comfortable throughout the night.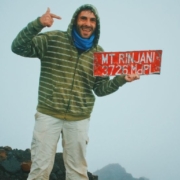 Negative things about the company: I don't have any small complain. The porters and guides were awesome. They always had big smiles during the trekking. All of them made things easier for me to trek Mount Rinjani. I was disappointed to see some people didn't keep their way to Mount Rinjani clean but I was really happy to see that my guide and porters were doing their best to keep everything clean before leaving.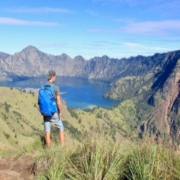 Best Rinjani trekking company
I obviously can't tell you what is the best Rinjani trekking company as I only hiked up to the summit once so far, but what I can tell you is that I was super satisfied with the Rinjani trekking service provided by Jou Trekking, click here to check his website and ask him anything you want to know. They picked us up as soon as we arrived in Lombok, provided accommodation the day before the tour and even offered to show us the Tiu Kelep waterfalls on the last day. His groups are small and what I really valued was that he provided all the gear for climbing Mount Rinjani. They provided everything I was not carrying with me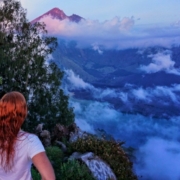 Planning or Lack Of
Despite thinking about doing this for months, the actual plans where literally made at the last possible second, thanks to the good-natured and extremely helpful Jou of Jou Trekking.